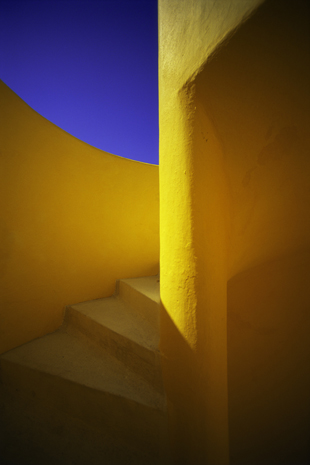 Copyright: Pete Turner


Pete Turner b. 1934
A graduate of the Rochester Institute of Technology, Pete Turner served with
the second signal combat photography team at the army pictorial center in
Long Island City, New York. During this time, he was able to explore his
interests in color photography by experimenting with the then new type C
color process at the military's photography lab. By 1958 his work began to
appear in major publications, his first being a feature in Look magazine.
Over the next 50 years, Turner developed his unique style of vivid
color—often using color filters to produce unnatural effects, a radical
decision for the era---making him one of the most sought after commercial
photographers of his time as well as influential in the direction of color
photography in the fine art world.
Before the era of digital imaging software and capabilities, Turner
experimented with graphic, surreal, and somewhat shocking synthetic
compositions—Doorway and Sphere, 1966, and the Shape of Things to Come,
1969, were created by layering elements and are two of Turner's signature
images.
During the 1960's, his work was widely published and circulated and was
included in the seminal exhibition Photography in the Fine Arts held at the
Metropolitan Museum of Art in 1961, 1963 and 1967.